Time for action! MFF, banners and also… goats?
Hey guys! Monthly update time!
So I gotta get used to making updates, I almost went ahead and missed the date again.
---
GOATS (Undertale)
I've been very busy with Starwarriors and… UH WHAT THE HELL IS THIS!
ARGH GOATS!!! GOATS EVERYWHERE!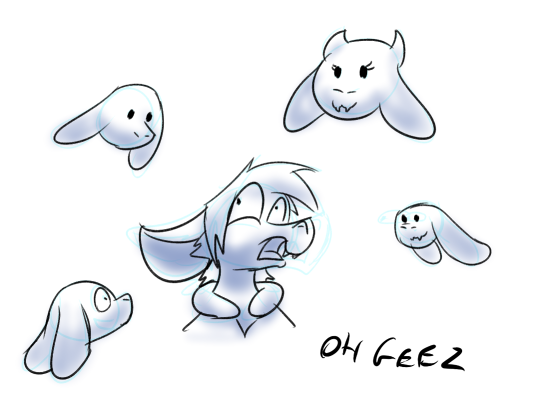 So as you can clearly see, I'm pretty much stuck in an Undertale fangirlism that may never end (Who knows!)
It's just impossible to not love the story and the sense of control the creator put upon it. It's definitely fighting up there for my favourite game at this point!
So my current status is finishing the experimental comic I started this last month, and how is that going?
Big goats don't cry…
People seem to be confused why I do these, but I can briefly explain. The experimental fancomics I do is to explore concepts or ideas on how I can convey story with comics, in this case for Undertale I wanted to explore the possibility of readers being held upon consequences, the terms of if reality is important or not and also to test reader intellect. I do believe readers are smart, I don't like the general idea that you have to treat the audience like they don't know shit.
As predicted, the readers were curious and boy they did some digging on my fancomic and ultimately triumphed!
The rest of these results will be posted nce I finish the comic.
So hopefully I can bring the end of the comic before this October ends!
If you want to read that fancomic I'm talking about, go here: Fancomic: Don't Let Go and then here: Fancomic: Let Go
---
BANNERS
So now that the fanart stuff is out of the way, we can talk of Bannners! Oh yes, how can I forget about that update…
Since the comic is growing, I'm looking to share banners with other comic creators out there! If you wanna share banners, just shoot me an E-mail at voidslice@hotmail.com or starwarriorscomic@gmail.com
---
STARWARRIORS (Big Comic in the works soon!)
Ok so now, what about this whole Starwarriors thing going on?
Well, the script is mostly finished for the first book!
*cue applause*
I'm just having a few friends read them over to see if they do like it or if I made a stupid mistake in the script. After that… comes the fun part!
Drawing the thing!
I have most of the materials ready for the thumbnailing process, once I hear back from friends I'll be underway with my comic!
---
CONVENTIONS (Midwest Furfest)
I am more likely going to Midwest Furfest this December! And I'll be in the lottery for the artist table. I hope I see some of you guys there!
I'll probably be hanging around with friends mostly, one day I'll have a bigger table for all you guys to check around with! Right now I gotta get new business cards ready!
---
I'm awfully sorry I don't have more news to share at this very moment.
But I gotta get working on stuff for the convention, some comic pages and to finish some commissions this upcoming month as well…
Is there anything you would like me to talk about for next month in particular? Anything I should look up about? Let me know!
So until then, may your wishes come true!
-Scott