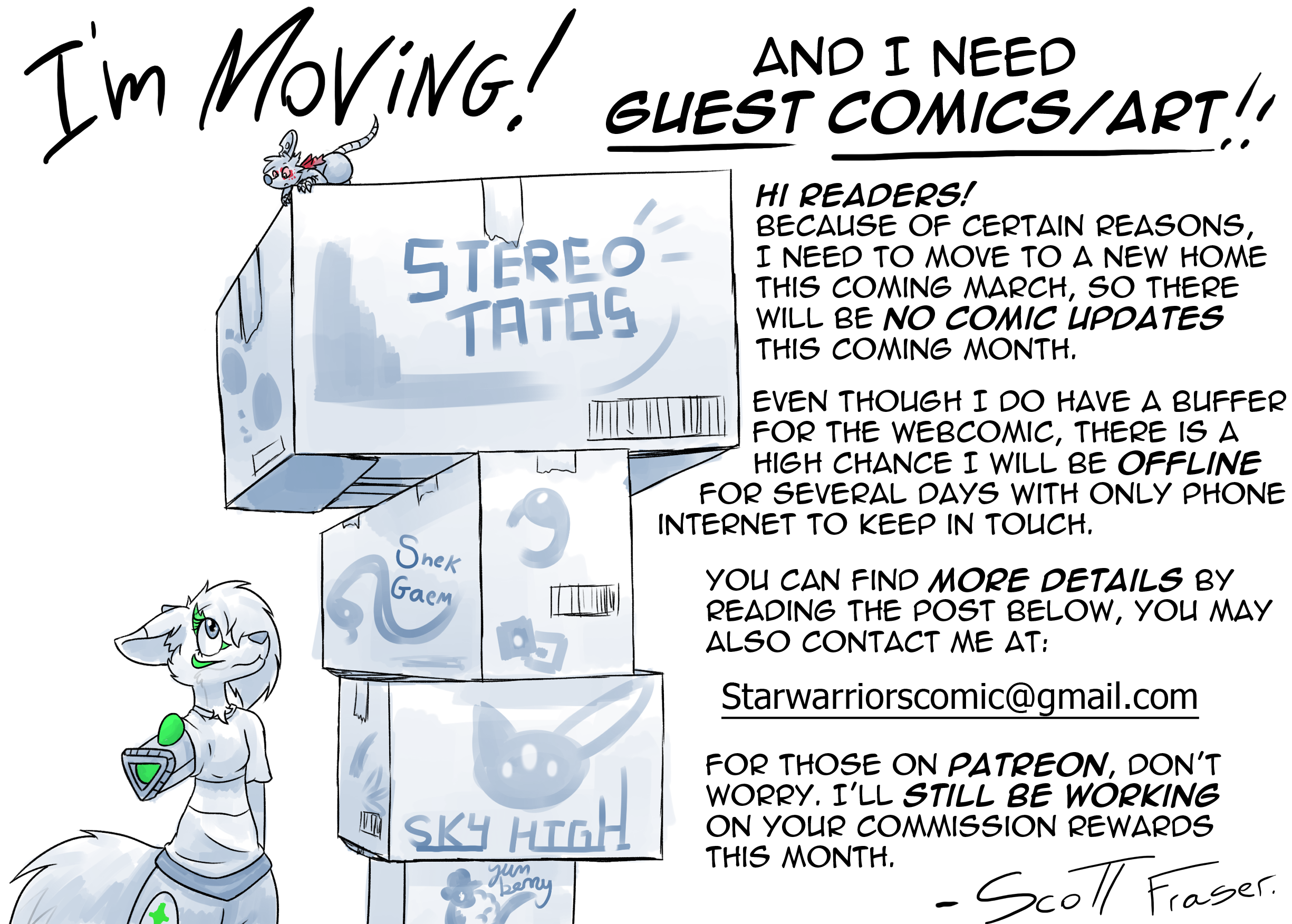 Guest comic art details:
Submissions will be posted in place of comic pages for the duration of a month. After the month has passed they will be moved to the archive because I try to avoid filler content when I can. Your name/username will be included along with links to your work/art/website. If you want to say something, I'll include a message too.
Please be aware of these rules and specifications:
– I'll be choosing roughly 8 artists. Ideally to have a guest page every Tuesday and Friday.
-Your original characters are welcome to interact with any of my characters, but the guest art has to feature Starwarriors or any of my comic's characters in some way.
– It also has to be stated, these comics will not be entering the canon of Starwarriors in any way.
– Resolution can really be anything you want, just don't make it too small or too big. I can give numbers if need be.
– Keep it PG-13 and free of religion/politics. Violence and the like are OK, the comic is a bit adult, just nothing "adult" please.
– You must be the creator of the artwork. If this is a collaboration, all parties must agree to want to submit the artwork to the website.
– I am free to decline any artist without having to give an explanation as to why.
For those interested in submitting a guest page or guest art piece, send me an E-mail to Starwarriorscomic@gmail.com with the subject like "Guest Artist". Feel free to email me with questions too!
Patreon rewards will still be active:
I will still draw commissions and make art for my patrons. Although, the following rewards on Patreon will not be active in the month of March:
-Page Commentary
-Starwarriors page early access
-Description and page credits
-Page download
-Beta Reader (However, if you do decide to acquire it in this month, you would see 3 future pages. However, I would wait till next month for this.)
Why I can't submit comics this month:
It is really more of an aspect of making sure that I don't accidentally put the comic in hiatus. I have no idea how long I will be out of an internet. It could be for weeks after I move, or it could be just a few days.
I have also been working a bit on fixing up my Patreon rewards to give more to my patrons and readers… I still think it needs a bit more of polishing before I finally decide on something great for everyone. Which reminds me, I want to be able to work a bit on the next chapter of the comic… I'm almost done sketching chapter 3.
I am also attending Furnal Equinox this year again, and this time I have a dealers table, which wouldn't be much work if it wasn't almost right before my move. I need to do a bunch of unpacking to get ready for the convention and my new home.
It makes me happy though that by hosting guest art I could potentially spread the word on cool webcomics… even some that I didn't know of!
Hopefully some of my readers who have webcomics or are artists take a chance at being a guest artist! And remember, don't hestitate to ask me questions about this by E-mailing me to Starwarriorscomic@gmail.com
I hope that you all have a good day!